MARINE AIR CONDITIONER SC 5000 BTU 12V DC (COPPER) BY MABRU
$4,890.00
Description
*PATENT PENDING*
Self Contained 12V Unit includes: Compressor, Blower, Condenser, Copper Fin antimicrobial evaporator, reversing valve, condensing pan, remote digital touch control, cable, instruction manual and mounts.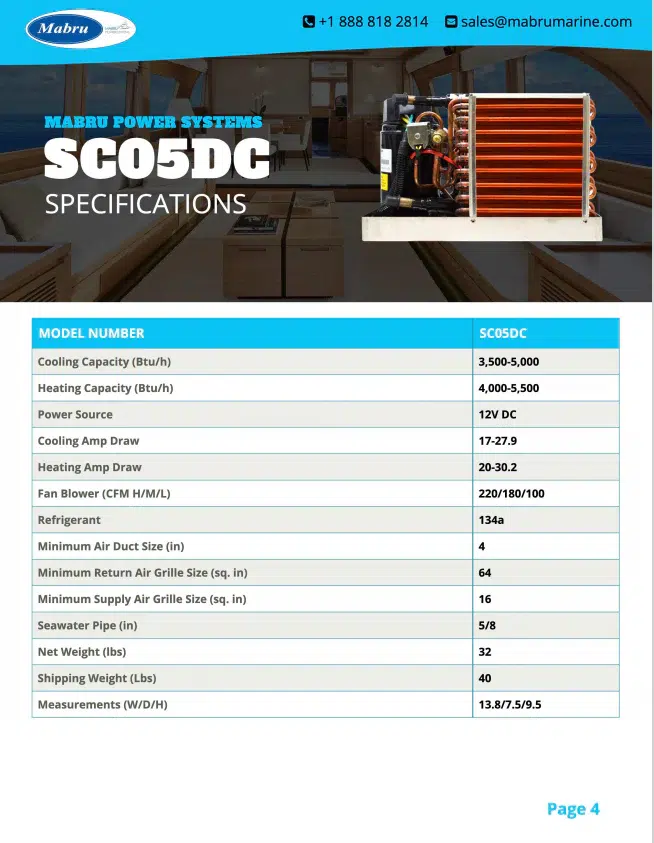 WARRANTIES
2 Year Warranty on the unit.
1 Year Warranty on installation.
Lifetime Warranty on the compressor.
LETS RECAP AND SEE WHY THIS IS YOUR BEST OPTION
-Life time warranty on our compressors. 2 years on parts (1 year parts and labor)
-Lower cost to buy and maintain, (much more reliable!)
-Super high efficiency by design
-Quiet.. our units will not disturb your sleep
-Stainless chassis, welded drains
-High static pressure ball bearings blowers with auto mode
-Digital control Vimar bezel compatible
-20 years rated 70/30 CuNi water cool condenser
-Very simple installation.